She Grows Green Aura Quartz Crystal Necklace
For the girl who's on a journey of growth. She bravely moves into her discomfort and keeps stepping forward day by day.
This green Titanium Aura Quartz pendant necklace is such a magical piece to wear around your neck. This piece is like wearing a constant high vibe wand around your neck! Plus, green just inspires!
Sterling silver or 14k gold fill cable chain


Titanium Aura Quartz crystal

Pendant size ranges from 1.5-2" in length x .5-.75" in width

Handmade just for you

Necklace

size guide
GEMSTONE PROPERTIES

Green Titanium Aura Quartz has super high vibrational properties that enhance your heart chakra, encouraging your growth and expansion! Quartz is the power stone that invites you to step into your power in every moment. It amplifies energy and intention. Green Aura Quartz is good for anyone working to heal, grow and expand into their truest Self.
Because all crystals are unique they may vary in shape, size or appearance. In general we put larger stones with longer chains. Please contact us if you have a special request.
Measuring for Necklaces
Length is the open necklace laid straight & measured end to end not including the stone. The stone will hang at the length you choose. The best way to confirm what size is best for you is to drape a string around your neck, mark it where you want the length to be, then measure the string. In general 14" would be for a choker length, 16" generally hits at the nape of the neck, 18" hits above the heart and 20" or more would be good for a long layered look with other necklaces. 
Measuring for Bracelets

Take a loose tape measure and wrap it around your wrist. You could also use a string and just measure the length you need based on how it fits. Keep in mind that if you plan to wear several pieces at a time you may want to pick a size up for the ones that will be worn higher on your arm.
Bracelets for Women
small
: 6.0" or smaller (very petite wrists)
medium
: measures 6.5-7" (average woman's wrist size)
large: measures 7.5"+

Bracelets for Men
small
: 7.5" or smaller
medium
: 8" (average men's wrist size)
large: 8.5"+

 
Please allow 3-5 business days from the day you order unless otherwise noted in the listing.  
Customer Reviews
08/12/2021
Sonya L.

United States
Beautiful
This necklace was just as beautiful if not more beautiful than the other items I have purchased. The packaging was perfect as always and delivery was speedy. I'm already planning my next purchase! They accept after pay which makes it easier for me to be able to purchase these beautiful item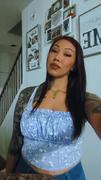 08/08/2021
Jessica P.

Canada
Stunner
I absolutely love this necklace. The stone is indescribable. Gorgeous hues of green. The packaging is always impeccable and the crew at Fierce Forward is the best. I've never had an issue with any pieces I have purchased over the years. They keep getting better and better. You cannot go wrong with a piece from this company.