Protect Your Energy Evil Eye Necklace
Protect your energy! Create a crystal boundary shield around yourself and be so committed to protecting your peace that nothing can get through. An evil eye is a protective symbol keeping its wearer from harmful, negative energy. 
Sterling silver or 14k gold fill cable chain


Mother of Pearl evil eye

Handmade just for you

Necklace

size guide
Measuring for Necklaces
Length is the open necklace laid straight & measured end to end not including the stone. The stone will hang at the length you choose. The best way to confirm what size is best for you is to drape a string around your neck, mark it where you want the length to be, then measure the string. In general 14" would be for a choker length, 16" generally hits at the nape of the neck, 18" hits above the heart and 20" or more would be good for a long layered look with other necklaces. 
Measuring for Bracelets

Take a loose tape measure and wrap it around your wrist. You could also use a string and just measure the length you need based on how it fits. Keep in mind that if you plan to wear several pieces at a time you may want to pick a size up for the ones that will be worn higher on your arm.
Bracelets for Women
small
: 6.0" or smaller (very petite wrists)
medium
: measures 6.5-7" (average woman's wrist size)
large: measures 7.5"+

Bracelets for Men
small
: 7.5" or smaller
medium
: 8" (average men's wrist size)
large: 8.5"+

 
Please allow 3-5 business days from the day you order unless otherwise noted in the listing.  
Customer Reviews
07/28/2021
Sandy F.

United States
Favorite
One of my favorites even matches my tattoo. :0)
05/16/2021
Selena

United States
Love it!
I really love this necklace. I got it in 16-inch so I could layer it with other Fierce forward necklaces. I love the evil eye because it helps to protect my energy especially since I work with the public.
04/30/2021
fallon l.

United States
In LOVE
The packaging was so thoughtful. I felt so seen and celebrated. I honestly can't get myself to part ways with it, it's tok pretty not to repurpose! The entire experience has been very empowering. i am in love with my layered chokers and plan to wear them every damn day! Will def be purchasing more pieces soon! Love fiercely!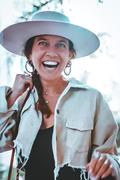 05/03/2021
Fierce Forward Jewelry
Fallon, thank you for your super kind review. I love when the whole experience hits and means something! You are rocking these btw!!!