Highest Self Three Chakra Gemstone Hanging
This piece is magical. Not only will this beauty harmonize the energy in your home, it uplifts you with good vibes and ground you in gratitude every time you look at it. The really cool thing about this Chakra Hanger is you can choose the stones that resonate with you and what you're trying to embody in your life.
Choose 3 raw gemstones hand-wrapped in copper set in 4" metal rings
Choose your gemstones from the listing picture and the list below.
Chakra hanging length is 1 foot 3" not including brown leather cord
Hanging leather cord is 8" long with strong loop for hanging
Handmade in Arizona, ships in 5-7 business days

AMETHYST ~ Encourages you to be your highest self & have courage. Crown chakra to connect to the divine
AMBER ~ Can absorb bad moods and heavy vibes & helps clean out negative energy. Sacral Chakra
AMAZONITE ~ Known as the stone of courage. It works to create a sense of calm & trust. Heart Chakra
APATITE ~ Said to enhance motivation & help with goal setting and releasing self limiting blocks
ARAGONITE ~ Offers grounding and rootedness in who you are. Root Chakra to connect to Earth
BLUE KYANITE ~ High vibrational stone that connects to the throat chakra. Our throat chakra is where our truth comes from and when we are able to communicate this truth and feel heard, we are on the path to achieving our fullest potential.
BLUE CALCITE ~ Calming communication crystal to open flow of throat. Throat Chakra
FUCHSITE~ Encourages self reflection & is a stone of rejuvenation and renewal
GREEN FLUORITE ~ Growth stone to be clear and open. Heart chakra for love and healing
HONEY CALCITE ~ Honey Calcite is a powerful energy cleanser & helps amplify the energies of other stones placed in its vicinity. Solar plexus chakra
LEPIDOLITE ~ Commonly referred to as the stone of transition. It is said to assist in the releasing of stagnant negative energies and behaviors that are no longer serving you while encouraging change-inducing practices.
ROSE QUARTZ ~ Self love & compassion. Heart chakra open and abundant
ORANGE CALCITE ~ Promotes confidence, creativity & positive energy! Sacral chakra
ONYX ~ Encourages self-realization & strengthens self confidence. Root chakra
PINK TOURMALINE ~ Said to aid the healing of stress, trauma & anxiety. Heart & crown chakras
PYRITE ~ Supports your inner warrior, helping you have confidence. All chakras
QUARTZ ~ Called the master healer. It is believed that whatever we associate it with, the stone will intensify its positive energy.
TOURMALINE ~ Protective, grounding stone. Root chakra to connect to the Earth
 All stones one of a kind and will vary in size, shape & color. Not eligible for exchanges, returns or discounts. 
Jewelry & accessories ship 2-4 business days from the day you order. Suncatchers ship in 3-5 business days. Chakra & gemstone hangers ship in 5-7 business days. Expedited shipping is available for jewelry & accessory orders.
We want you to love your piece but know that sometimes it is not the right fit. 
If you are not completely satisfied with your purchase, you can send it back to us in it's original packaging for a refund or exchange within 30 days of purchase. To start a return or exchange, please email 
customercare@fierceforwardjewelry.com. Please note we will only accepts returns & exchanges on unworn, new condition items. 
Custom pieces, custom mala necklaces, suncatchers, chakra hangings & sale items are not eligible for return or exchange. 
 Click here to view full return, exchange & FAQ's
Customer Reviews
02/05/2022
Tresa P.

United States
Chakra Hanger
I love my Chakara Hanger and all the stones I picked! Ashley and her team were a lot of help. I'm purchasing some Fierce Forward jewelry soon! Check out the car charms for your car mirror. That's on my list to purchase as well!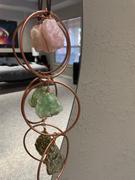 01/05/2022
Kendall M.

United States
The most thoughtful gift
I got this gift as a personalized gift for my sister. I was able to choose which stones I thought would resonate with her most and expand her energy. She loved it! It was so beautiful and the intention could've be felt in the details of the piece. My wish is that it may forever bring love to my sister and she can feel the power that exists within her whenever she looks at it in her home.
12/14/2021
SAMANTHA T.

United States
Gorgeous
Absolutely stunning piece and I am so excited to give this to my cousin for Christmas